Our fit guide
Figure out which pair looks best on you
Understanding the numbers
As you shop here, you may wonder what the three numbers represent on each frame -- and HOW to best choose a style for your face. These three numbers will help you choose which size is right for your face!
The following measurements will help you define your best Lens Size:
The "Lens Width", The "Bridge With" - when added together also show you the exact width of the glasses on your face.
Every face is different and we encourage you to read our How To's below.
Helpful Tip - The length is in Millimeters and are featured on each frame's LEFT ARM too for future reference too.
Lens width
The lens width is a horizontal measurement and gives you a sense of how large the frames will be. This will help you pick a frame that isn't too wide or too narrow for your face. You'll want your eyes to align with the center of the frame.
47
-21-140
Bridge width
The bridge width is measured horizontally at the top of the frame. It's the distance between the two lenses. Select a style where the bridge of the frame contours to the shape of your nose with as little gapping as possible.
47-
21
-140
Temple length
The temple length measures the arm of the frame. It starts with the hinges and goes all the way back behind your ear.
47-21-
140
Finding your fit
This simple trick shows how to choose the right fitting frames.
Take a credit card
This is the approximate width of a Standard Size lens.
Stand in front of the mirror
In front of a mirror, place one edge of the credit card at the center of your nose. Where does the other edge end?.
Note where end touches
A If the edge of the card ends at the end of the eye you should get a Medium size.
B If it extends well beyond the end of the eye you should get a Narrow size.
C If the credit card does not reach the end of the eye then go for a Wide size.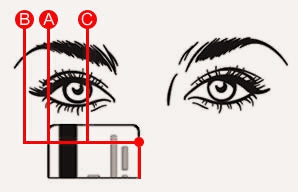 Helpful tips
Tip #1
Pick glasses that compliment your hair color, eye color, and personal style.
Tip #2
Coordinate your frame size with your face width. If you have a smaller face, try one of our smaller frames.
Tip #3
Frames opposite your face shape tend to highlight your features best. For example if you have a round face try a more rectangular frame.
Tip #4
If your nose sits higher on your face try glasses with a nose bridge closer to the top of the frame or with a keyhole, if your nose starts level with or below your pupils try frames with adjustable nose pads.